Wellness & La Ginabelle vacation Hotel in Zermatt
Pleasure of life, Wellness & Alpine experience at the Matterhorn
In the middle of the Alps. With an incredible view of the Matterhorn. The Hotel and the Spa, of the Ginabelle, make a great combination for a warming mountain feeling. Here you will have the chance to fully enjoy your holiday and above all, take in the magnificent feeling of freedom you get in the alpine wildness. The combination of our heartwarming and welcoming hotel with access to our SPA will allow you to have the most relaxing holiday imaginable.
We invite you to discover a modern word area in the Valais, in Zermatt, where cars are forbidden. Let yourself be enchanted by the wonders of the Matterhorn, symbol of the Swiss Alps. Rediscover the little pleasures of life by spending your time in our family Hotel.
Dream holiday at the Wellness area & in a Hotel in the Matterhorn Village
Our Wellness area is one of our most valuable assets of our Hotel, the GinaSPA has an indoor-outdoor pool that is set at a comfortable 34°C, the pool lights will intensify the experience by giving it a whole new dimension. Same goes for our Sauna area, which is accessible to all families and adults. Therefore, all Families and guests will get a warm welcome and a feeling of being at home away from home in our Hotel.
For our youngest guests, we offer a kid's club called Pumuckel, where all types of organized activities and outings are proposed daily. All these offers given by Ginabelle are organized to reinforce a feeling of wellbeing and vacation that is seaked by our guests who porously visit this calm and idyllic setting.
We are located at only two minutes away from the mountain train which gives you access to another incredible alpine infrastructure. In the summertime, you can fully take in the magnificent views and discover mountain paths with all the appropriate gear. You can also try mountain biking in these spectacular circuits of the Valais region.
During the winter, Zermatt is one of the biggest and most splendid alpine ski resorts. Your host will take you along on the slopes of the Matterhorn Paradise. By taking the Sonnega-Blauhers-Rothorn way down you will arrive almost right in front of the Ginabelle doors.
Welcome to the wellness and Hotel La Ginabelle in Zermatt.
Your Host, Abgottspon-Schell Family & the Ginabelle Team
Reasons to visit La Ginabelle Hotel
5% discount by booking on our website
Located at the base village of the Matterhorn
Access to our GinaSPA
Family and children friendly 
Spacious rooms with panoramic vews
Rating
"This was a repeat visit for us to this hotel and we believe this is the best 4S hotel In Zermatt. Spa is perfectly appointed ..."
22.02.2017
KathyL-Ktown, auf tripadvisor
Read more reviews ...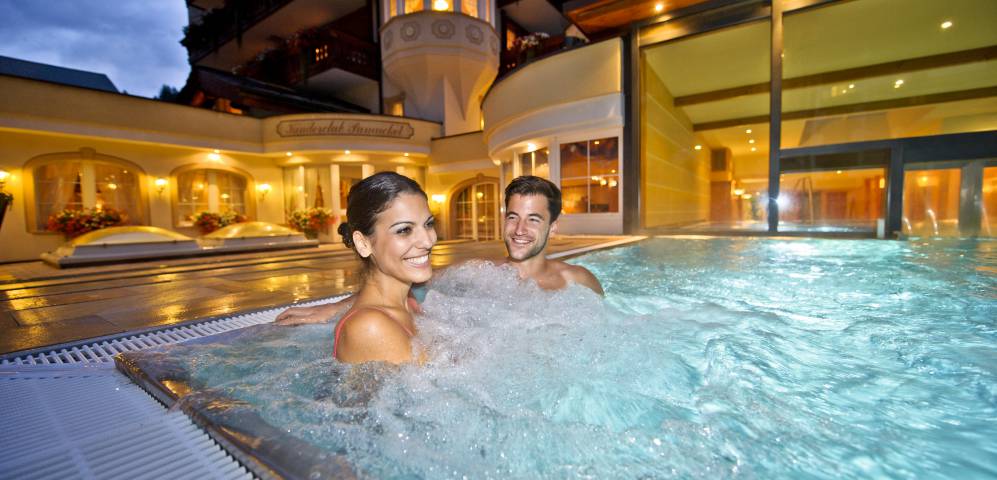 Wellness GinaSPA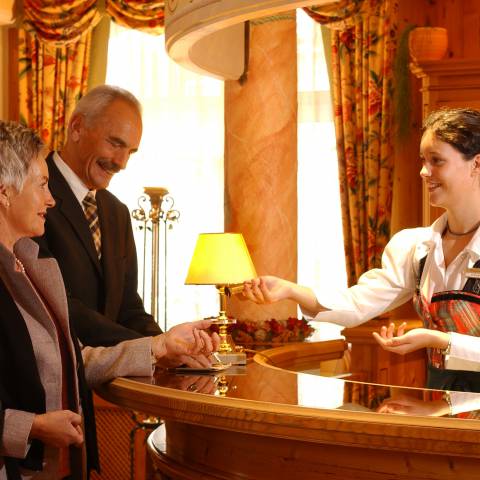 Hotel informtions
The "La Ginabelle" guide from A to Z
The Restaurant
Creative, varied
regional & international
Rooms & Prices
Double room "Obergabelhorn" Comfort

from

CHF 145.-- (~ € 137.--)

per person

Double room "Obergabelhorn" Superior

from

CHF 156.-- (~ € 148.--)

per person

Double room "Nordend" Comfort

from

CHF 136.-- (~ € 129.--)

per person

Double room "Nordend" Superior

from

CHF 146.-- (~ € 138.--)

per person

Small double room Pollux

from

CHF 169.-- (~ € 160.--)

per person

Double room Strahlhorn

from

CHF 153.-- (~ € 145.--)

per person

Double room Rimpfischhorn

from

CHF 125.-- (~ € 119.--)

per person

Double room Nadelhorn

from

CHF 117.-- (~ € 111.--)

per person

Double room Lenzspitze

from

CHF 136.-- (~ € 129.--)

per person

Double room Dent - blanche north-east

from

CHF 150.-- (~ € 142.--)

per person

Double room Dent - blanche south

from

CHF 157.-- (~ € 149.--)

per person

Apartment "Pollux" View

from

CHF 209.-- (~ € 198.--)

per person

Apartment "Pollux" Comfort

from

CHF 173.-- (~ € 164.--)

per person

Apartment "Pollux" Superior

from

CHF 190.-- (~ € 180.--)

per person

Apartment "Zinalrothorn" Comfort

from

CHF 159.-- (~ € 151.--)

per person

Apartment "Zinalrothorn" Superior

from

CHF 173.-- (~ € 164.--)

per person

Apartment "Weisshorn" Superior

from

CHF 190.-- (~ € 180.--)

per person

Apartment "Weisshorn" View

from

CHF 209.-- (~ € 198.--)

per person

Apartment "Weisshorn" Comfort

from

CHF 173.-- (~ € 164.--)

per person

Apartment "Matterhorn" Superior

from

CHF 201.-- (~ € 191.--)

per person

Apartment "Zinalrothorn" View

from

CHF 183.-- (~ € 174.--)

per person

Apartment "Matterhorn" Comfort

from

CHF 172.-- (~ € 163.--)

per person

Apartment "Lyskamm" Comfort

from

CHF 185.-- (~ € 175.--)

per person

Apartment "Lyskamm" Superior

from

CHF 223.-- (~ € 211.--)

per person

Apartment "Platthorn" View

from

CHF 177.-- (~ € 168.--)

per person

Apartment "Platthorn" Superior

from

CHF 168.-- (~ € 159.--)

per person

Apartment "Nordend" View

from

CHF 133.-- (~ € 126.--)

per person

Apartment Alphubel

from

CHF 128.-- (~ € 121.--)

per person

Apartment Mettelhorn

from

CHF 153.-- (~ € 145.--)

per person

Apartment Gabelhorn

from

CHF 100.-- (~ € 95.--)

per person

Apartment Breithorn

from

CHF 119.-- (~ € 113.--)

per person

Apartment Dufourspitze north-est

from

CHF 122.-- (~ € 116.--)

per person

Apartment Dufourspitze southside

from

CHF 125.-- (~ € 119.--)

per person

Apartment Monte - Rosa

from

CHF 126.-- (~ € 119.--)

per person

Apartment Zumsteinspitze

from

CHF 120.-- (~ € 114.--)

per person

Junior Suite "Rimpfischhorn" Comfort

from

CHF 196.-- (~ € 186.--)

per person

Junior Suite "Stockhorn" Superior

from

CHF 250.-- (~ € 237.--)

per person

Junior Suite "Stockhorn" View

from

CHF 271.-- (~ € 257.--)

per person

Junior Suite "Rimpfischhorn" Superior

from

CHF 250.-- (~ € 237.--)

per person

Junior Suite "Stockhorn" Comfort

from

CHF 216.-- (~ € 205.--)

per person

Juniorsuite Dom

from

CHF 192.-- (~ € 182.--)

per person

Juniorsuite Matterhorn

from

CHF 207.-- (~ € 196.--)

per person

Single room Castor

from

CHF 129.-- (~ € 122.--)

per person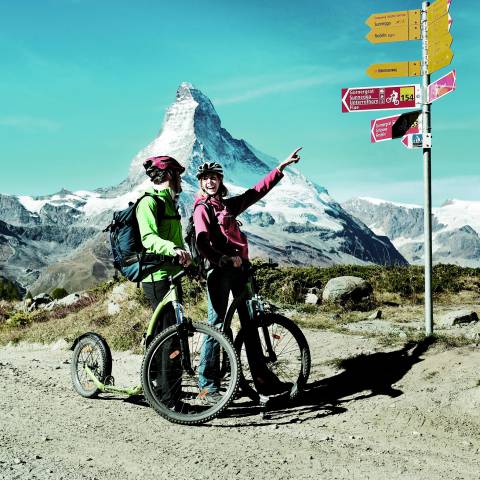 Sports & Active
Holidays in the center of the Alps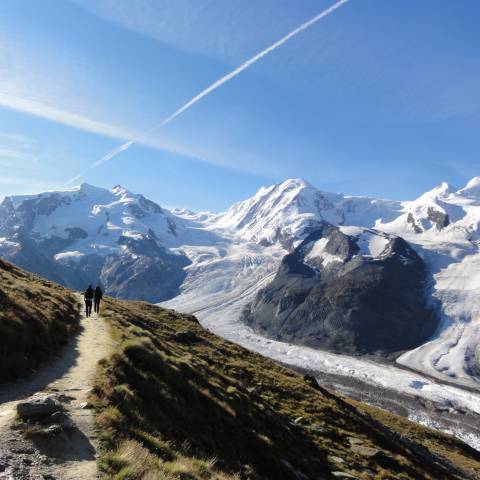 Location
The cable car is just a 2-minute walk away
Family Holidays
Wellness & holiday hotel for families and nature experience combined