Rooms and suites in Zermatt 
To have an incredible stay in Zermatt  …
Calm. A relaxed atmosphere. Make your dream vacation a reality by staying at La Ginabelle Hotel in Zermatt. The rooms, apartments and suits facing south, have a view on the Matterhorn.
All the rooms at La Ginabelle have ether a shower or a bathtub/WC, mirror, hanging wrack, hair dryer, phone, TV, free WIFI, Radio, Minibar and safe.
Some suits and apartments offer a fire place, chimney, jet bathtub and two bathrooms with two bedrooms or two double rooms with connecting doors.
Included benefits
To make your stay even more special, the price for a night includes the access to the PSA, and to an all you can eat breakfast buffet.
Choose your room and book online.
Reasons to visit La Ginabelle Hotel
Well located in the centre and the calm of the village
Family customer base
Interesting offers include in the benefits 
Superior 4 star 
2 minutes away from the mountain train
Rating
"This was a repeat visit for us to this hotel and we believe this is the best 4S hotel In Zermatt. Spa is perfectly appointed ..."
22.02.2017
KathyL-Ktown, auf tripadvisor
Read more reviews ...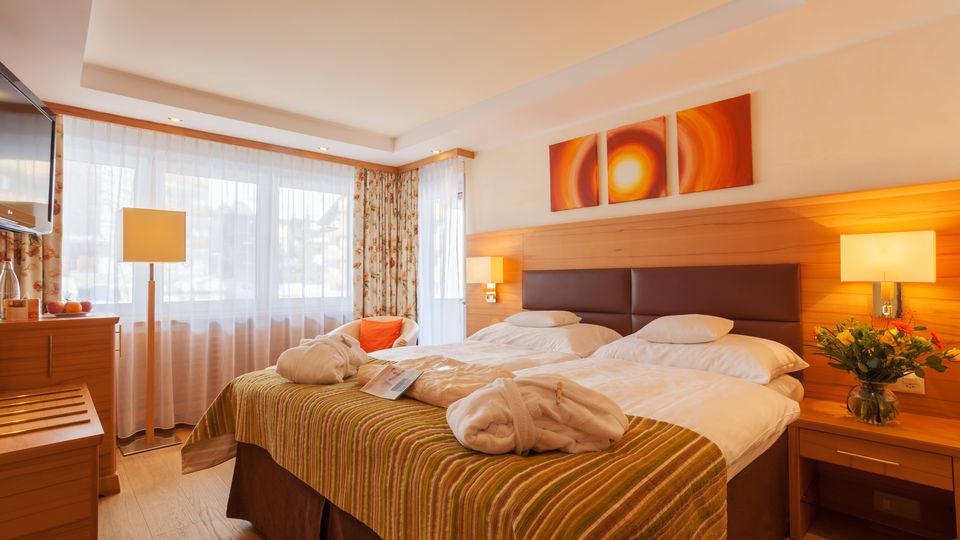 Pollux
from  CHF 149,-- (~ € 130,--)   price per person
small double room for single or double use, with north-facing balcony, shower/WC. From the balcony you can see the Matterhorn.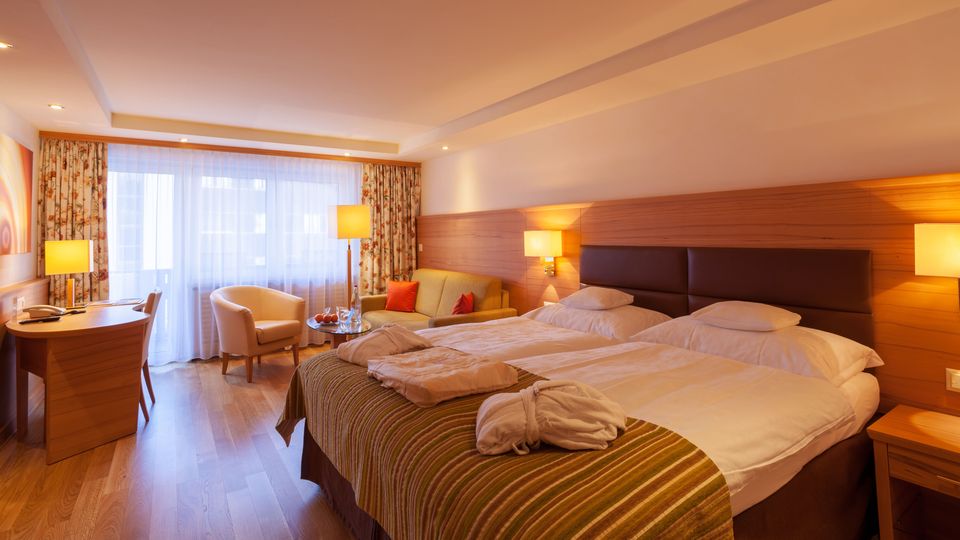 Strahlhorn
from  CHF 179,-- (~ € 157,--)   price per person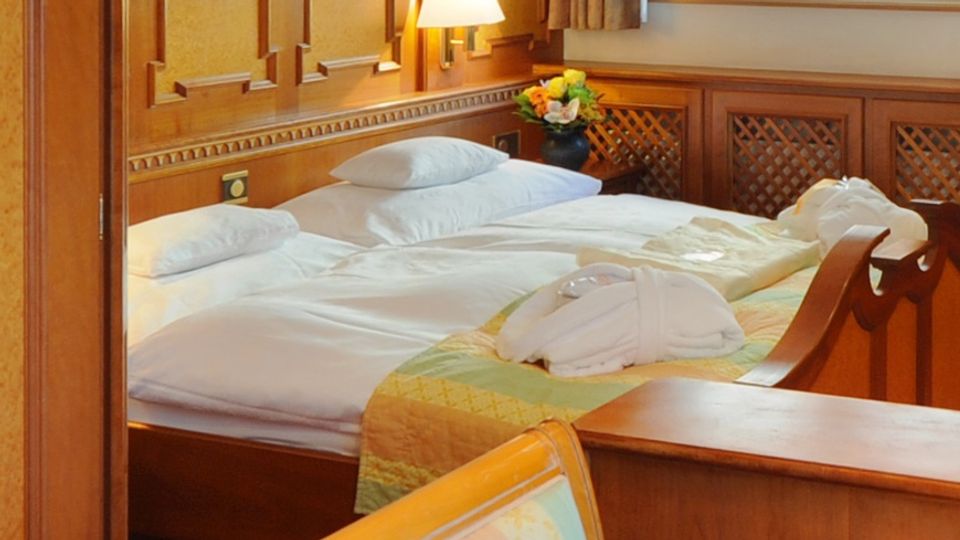 Rimpfischhorn
from  CHF 160,-- (~ € 140,--)   price per person
Double room on ground floor without balcony, with bath and toilets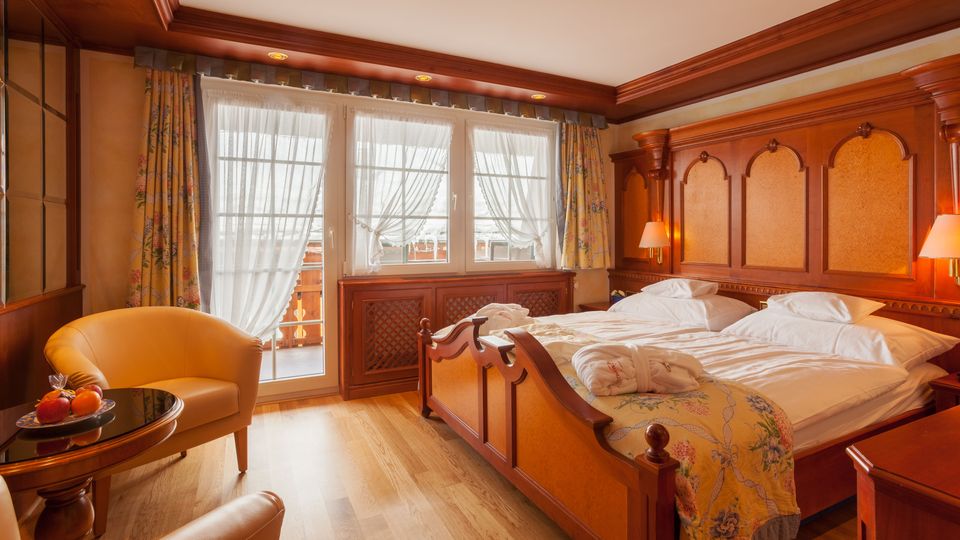 Nadelhorn
from  CHF 164,-- (~ € 144,--)   price per person
Comfort double room south-west or east-facing with balcony, with bath/and toilets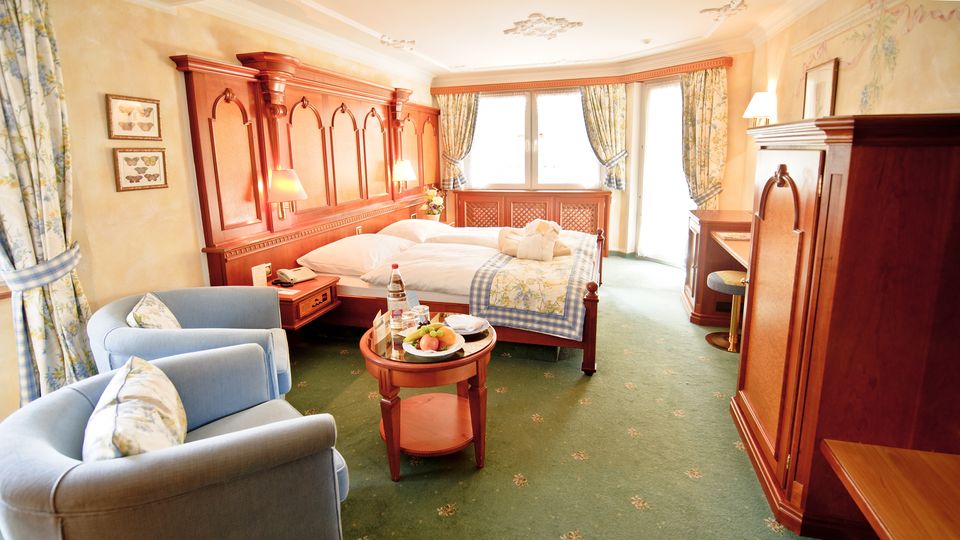 Lenzspitze
from  CHF 162,-- (~ € 142,--)   price per person
Comfort double room with or without terrace south-facing, with bath and toilet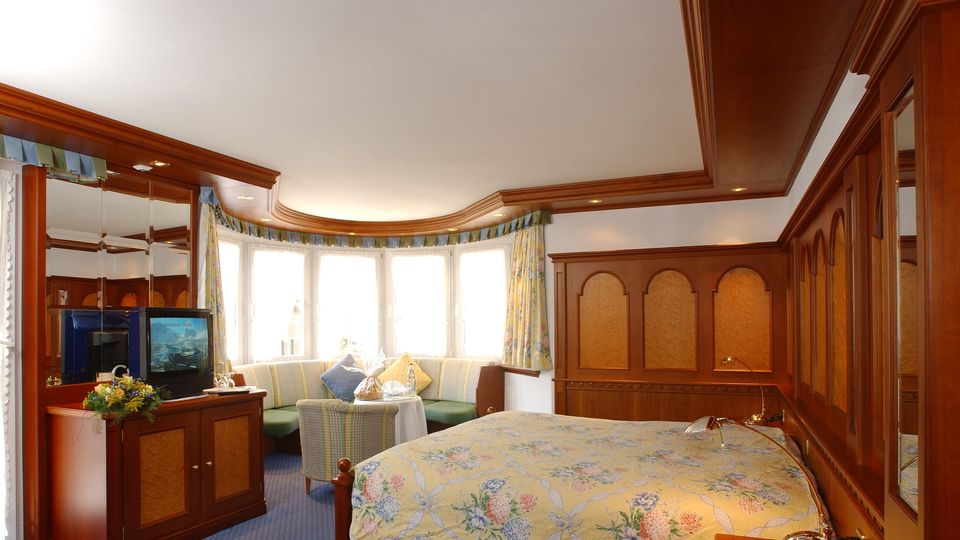 Dent - blanche north-east
Dent - blanche north-east
from  CHF 183,-- (~ € 160,--)   price per person
Double room with bay window north-facing, with balcony, with bath and toilet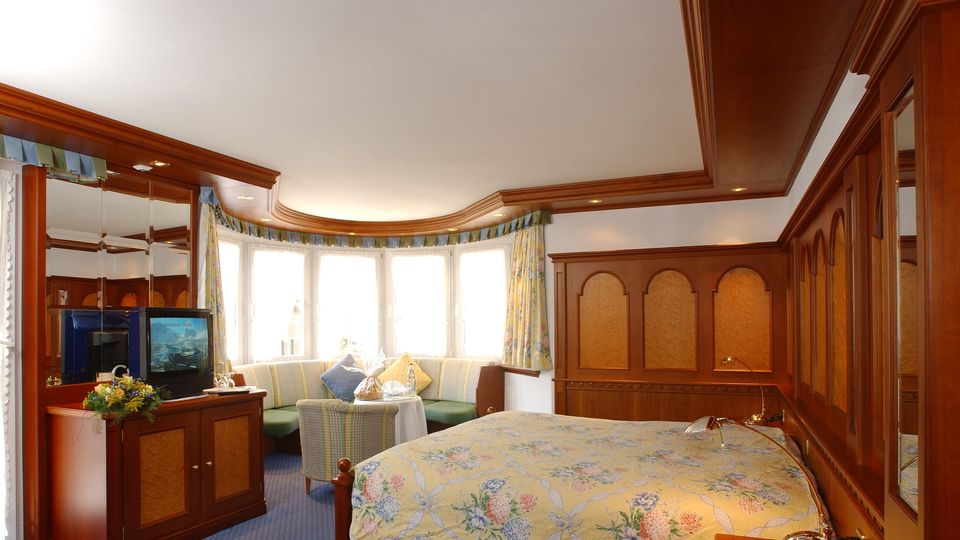 Dent - blanche south
from  CHF 176,-- (~ € 154,--)   price per person
Double room with bay window south-facing, with balcony, with bath/WC,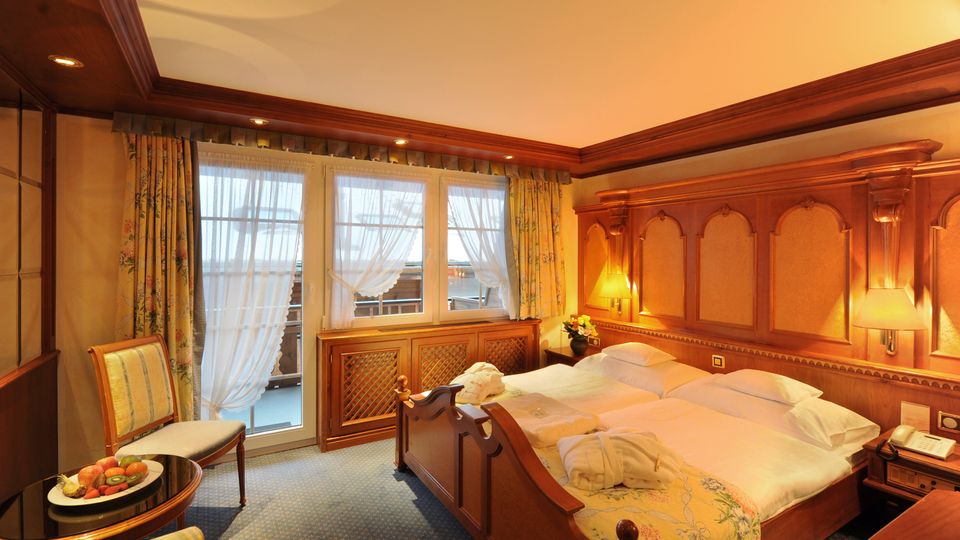 Zinalrothorn
from  CHF 183,-- (~ € 160,--)   price per person
Luxury double room with south-facing balcony, with bath and shower/WC, whirlpool
Apartments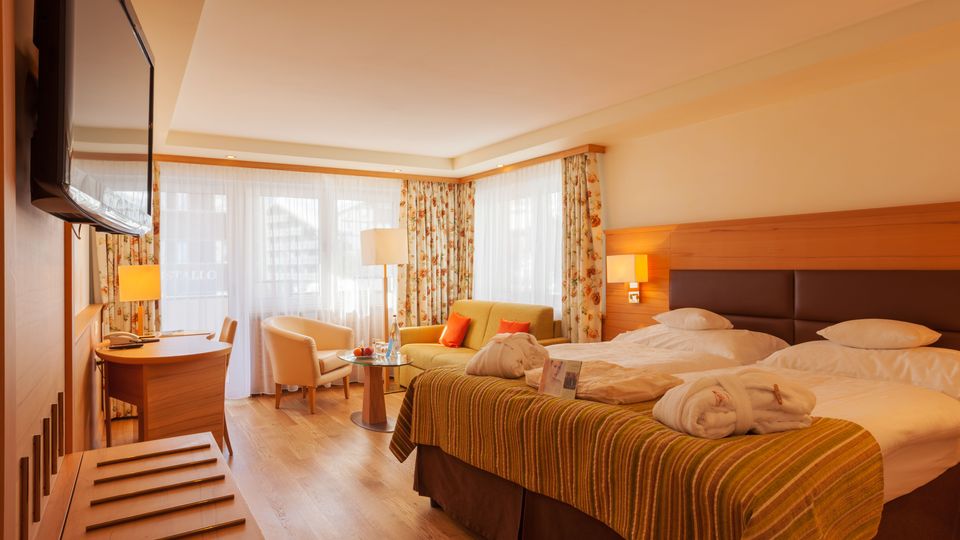 Apartment Alphubel
from  CHF 160,-- (~ € 140,--)   price per person
Apartment, 2 bed rooms, with south-and north-west facing balcony, bath/WC, shower/WC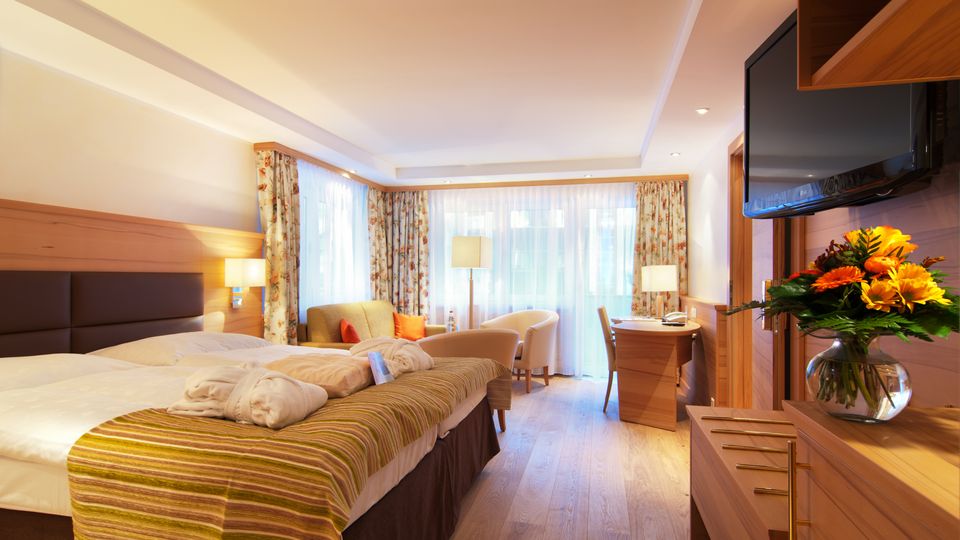 Apartment Mettelhorn
from  CHF 169,-- (~ € 148,--)   price per person
Apartment, 2 bed rooms, with south facing balcony, bath/WC, shower/WC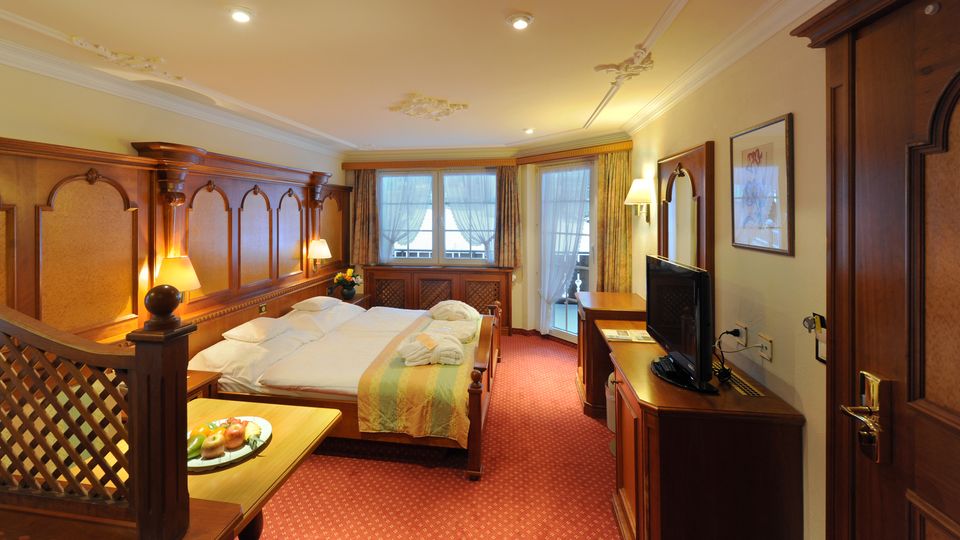 Apartment Wellenkuppe
from  CHF 137,-- (~ € 120,--)   price per person
Apartment on 3rd floor with east-facing balcony, with 2 double rooms, with one bath an toilet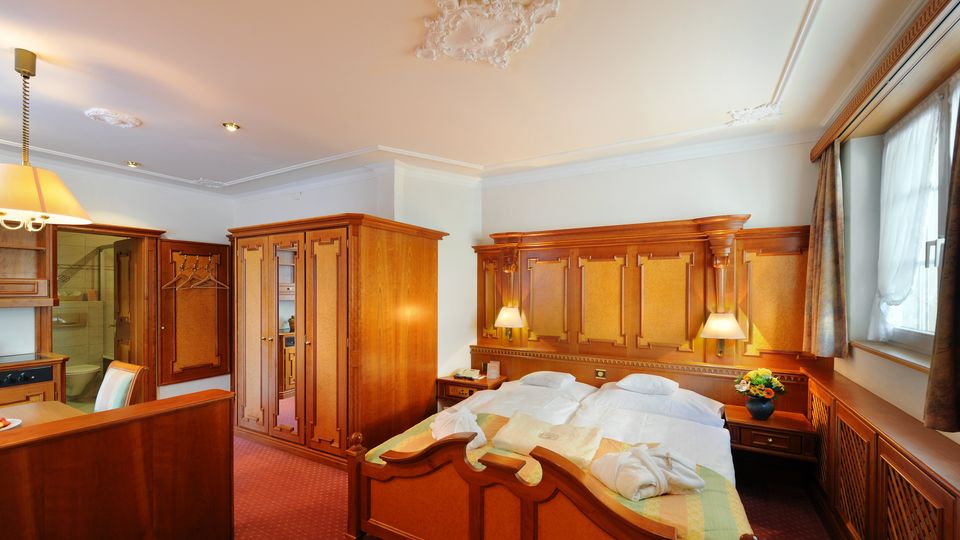 Apartment Gabelhorn
from  CHF 160,-- (~ € 140,--)   price per person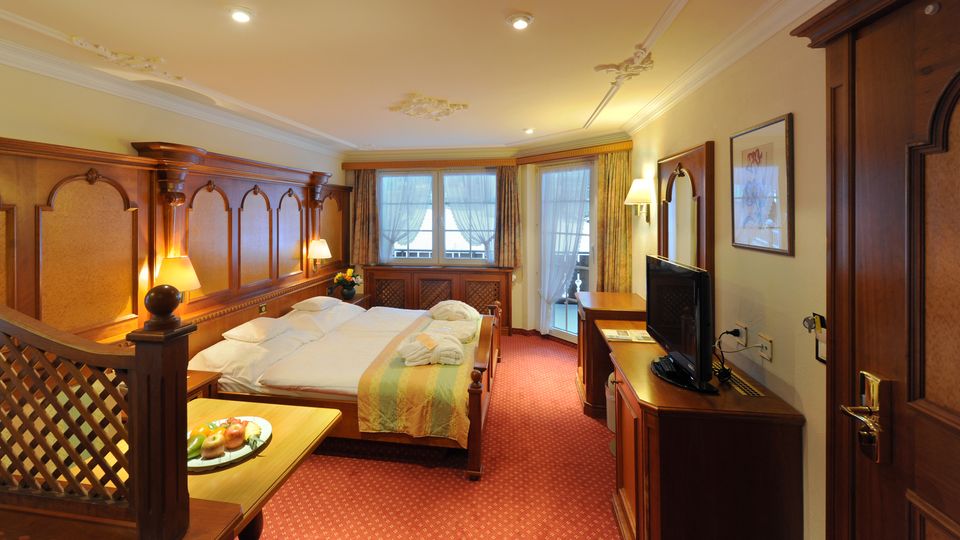 Apartment Breithorn
from  CHF 139,-- (~ € 122,--)   price per person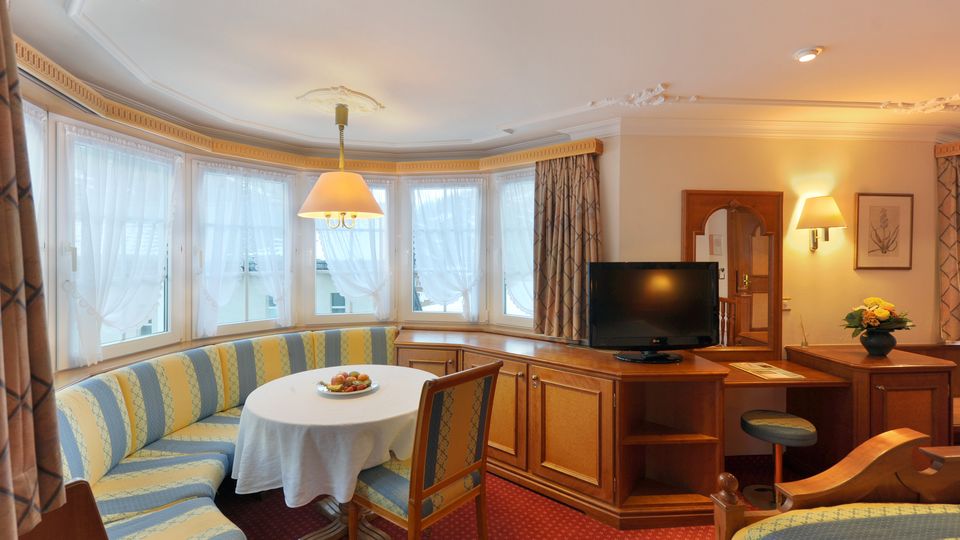 Apartment Dufourspitze north-est
Apartment Dufourspitze north-est
from  CHF 151,-- (~ € 132,--)   price per person
2 double rooms with north-west-facing balcony, with connecting doors, one with bay, with 2 bathrooms and toilets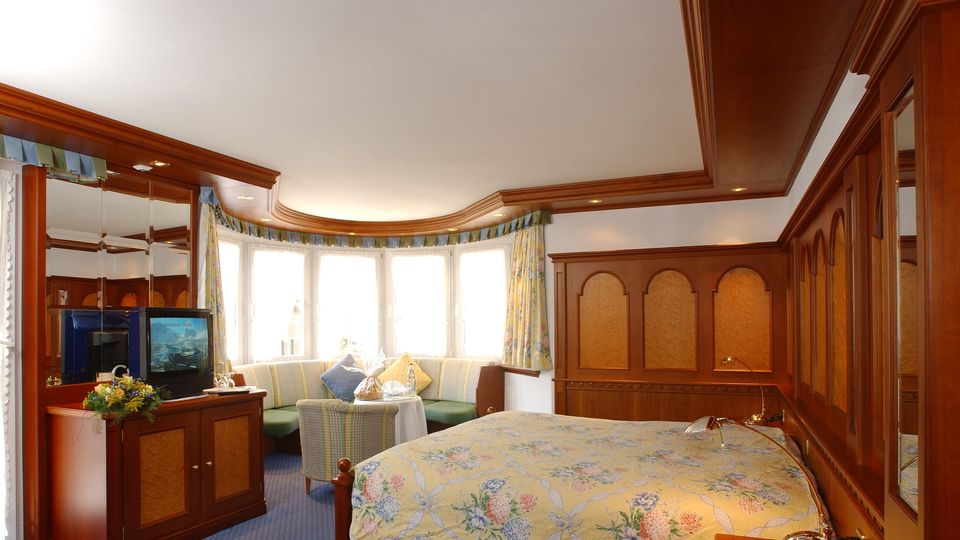 Apartment Dufourspitze southside
Apartment Dufourspitze southside
from  CHF 207,-- (~ € 181,--)   price per person
2 double rooms with south- or north-west-facing balcony, with connecting doors, one with bay, with 2 bathrooms and toilets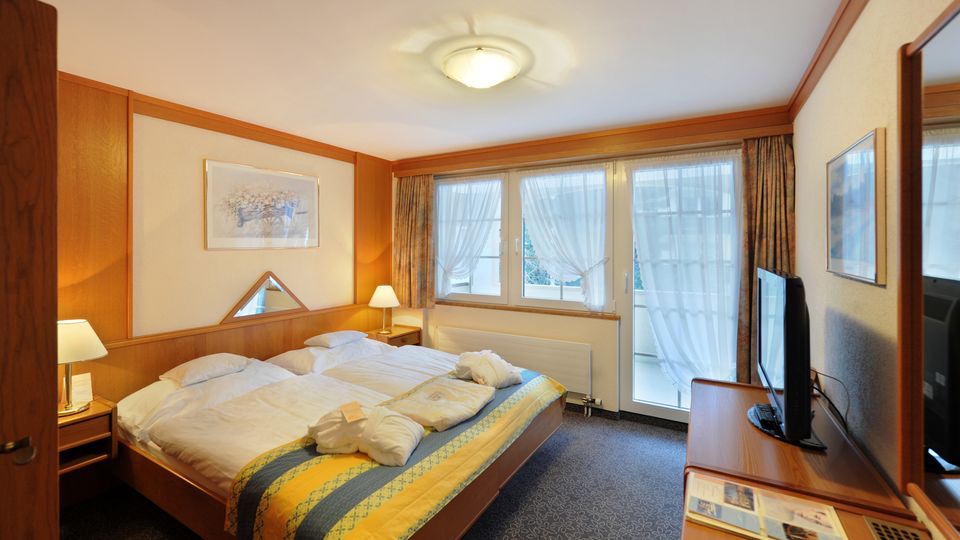 Apartment Lyskamm
from  CHF 142,-- (~ € 124,--)   price per person
Spacious apartment with south-facing balcony, 3 bedrooms, 1 living room, 1 bath/WC, 1 shower/WC,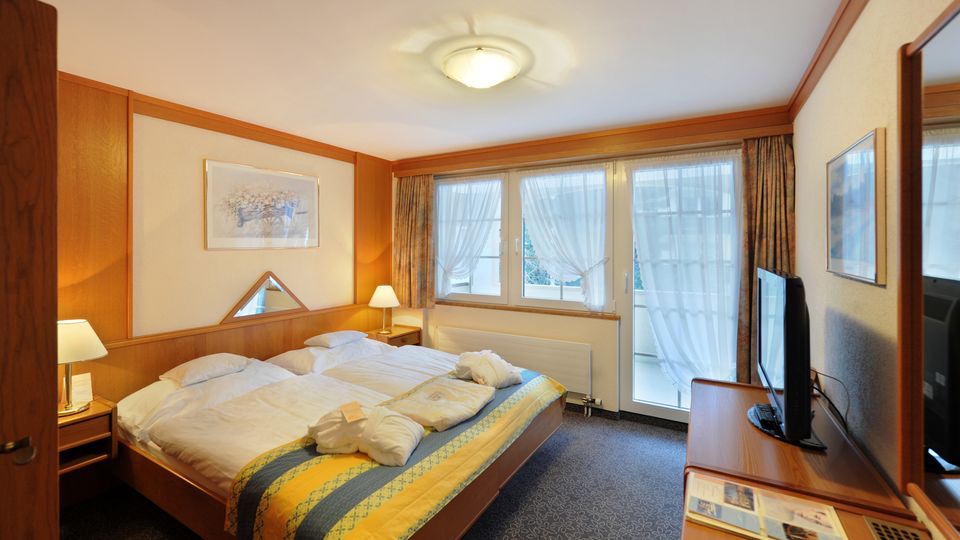 Apartment Weisshorn
from  CHF 149,-- (~ € 130,--)   price per person
Attractive apartment with south-facing balcony, 2 bedrooms, 1 bath/WC, 1 shower/WC,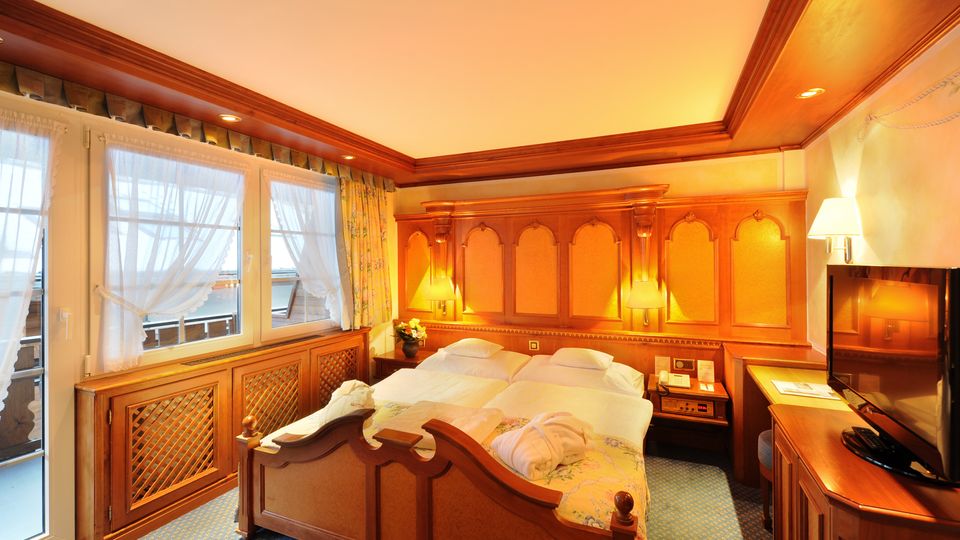 Apartment Monte - Rosa
from  CHF 152,-- (~ € 133,--)   price per person
large double rooms with south-facing balcony, with sitting area and connecting doors, with 2 baths/WC, whirlpool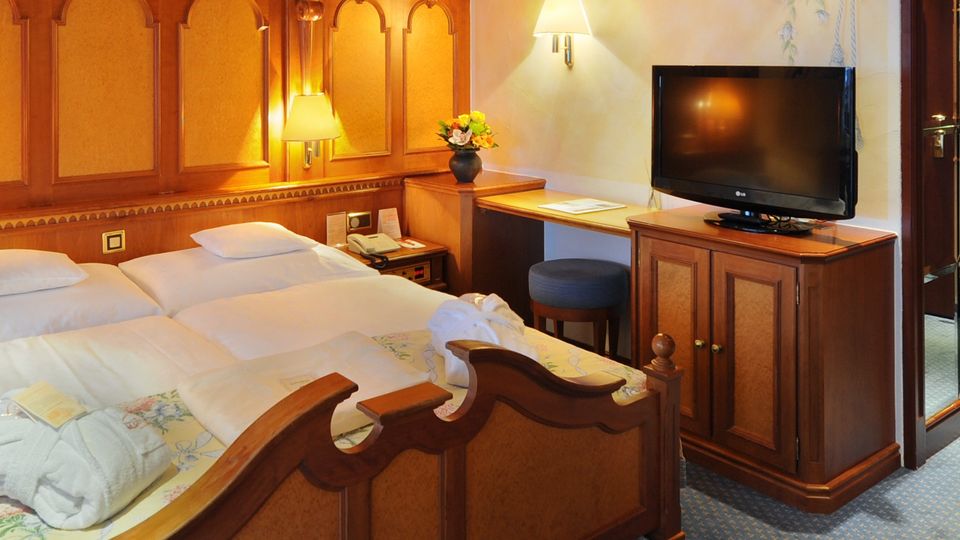 Apartment Zumsteinspitze
from  CHF 182,-- (~ € 159,--)   price per person
Suite with bay, north-west facing balcony, 2 bedrooms and 1 living room, bath and toilet
juniorsuites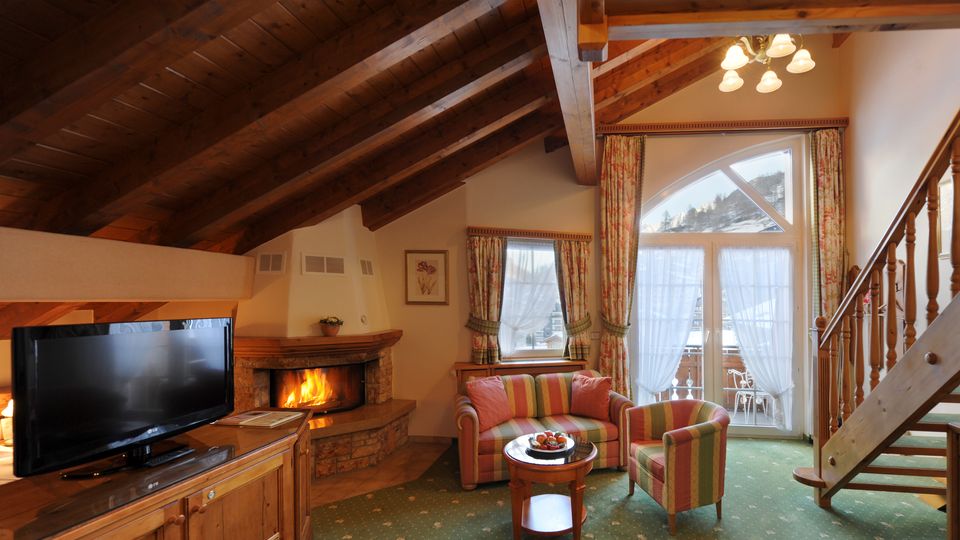 Juniorsuite Dom
from  CHF 196,-- (~ € 172,--)   price per person
Junior suite on top floor on 2 levels, with north-facing balcony, open fireplace or tiled heating stove, with bath/WC, whirlpool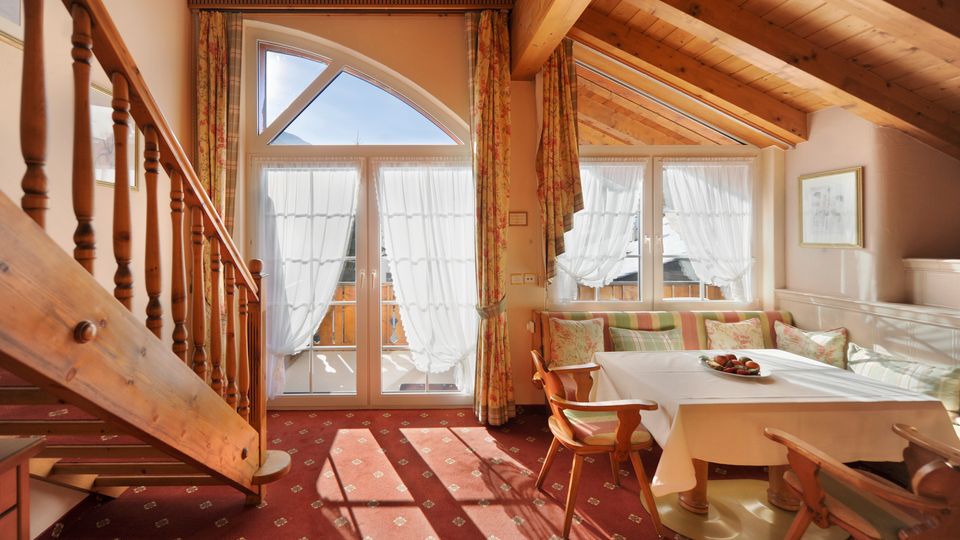 Juniorsuite Matterhorn
from  CHF 212,-- (~ € 186,--)   price per person
Junior suite on top floor on 2 levels, with south-facing balcony, open fireplace or tiled heating stove, with bath/WC, whirlpool
single rooms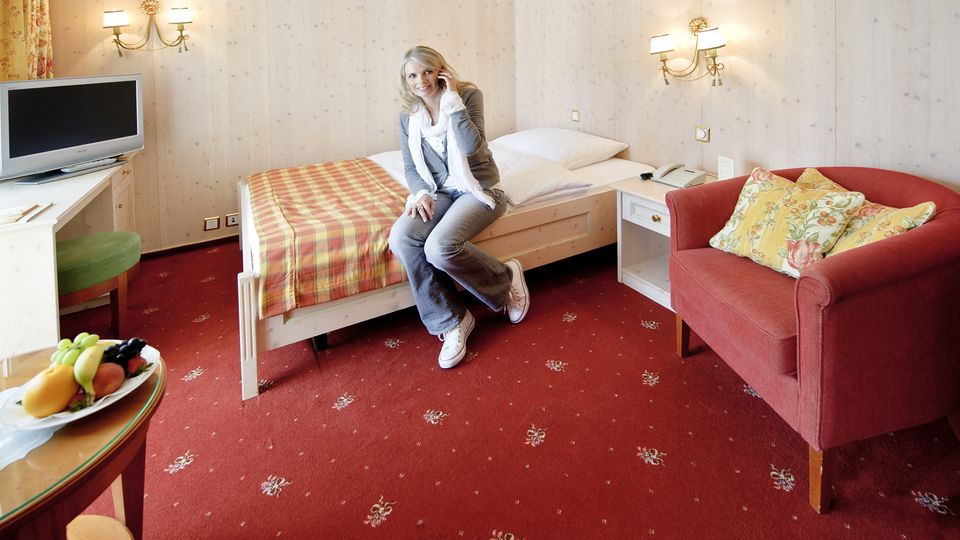 Castor
from  CHF 135,-- (~ € 118,--)   price per person
Room with king-size bed north-facing, with balcony, for double-occupancy, with shower/WC