Resort La Ginabelle: Sauna Area
Endless Relaxation in Zermatt
Mild radiant heat. Pleasant thermal steam. Brine & Herbs. The sauna area in the SPA-Hotel Resort La Ginabelle in Zermatt offers a variety of saunas. Between the sauna sessions, you can cool off and relax on the loungers and water beds. To dream and relax endlessly in the heart of the Alps ...
By dividing the sauna world into a dress-on and a naked area, we meet the needs of all our guests. Wellness guests who prefer to use the sauna with swimwear best visit our Dress-on-Family-SPA on the ground floor of the GinaSPA. The textile-free Vital-SPA can be found on the basement floor. This classic sauna area may be used by all guests from the age of 16. 

The Organic-SPA area in the new residence Altiana is also an adults-only zone and exclusively available for guests of Altiana. Materials such as driftwood, hay and moss create an organic and natural spa world.
Sauna Area
Finnish sauna
Steam bath
Herbal bath
Infrared sauna (dress-on)
Steam bath (dress-on)
Rating
"This was a repeat visit for us to this hotel and we believe this is the best 4S hotel In Zermatt. Spa is perfectly appointed ..."
22.02.2017
KathyL-Ktown, auf tripadvisor
Read more reviews ...
Vital-SPA
Classic textile-free sauna (without swimwear) 
For guests from the age of 16
Open from 3:00 PM to 8:00 PM
Finnish sauna: Temperatures of up to 90 °C make the body sweat. The subsequent cool-down stimulates the circulation and strengthens the body's defences.
Brine steam bath: The gentle brine mist has a regenerating effect on the respiratory tract.

Herbal bath: Due to the high air humidity and the pleasant scents of fresh herbs, the herbal bath is great for the respiratory tract and has a relaxing effect. 
Relaxation room with waterbeds:  In the relaxation room with loungers and water beds you can enjoy time for yourself.
Adventure shower: Cool down with cold water between the sauna sessions.
Vitamin bar: Mineral water, juices and dried fruits for your vitality. Serve yourself!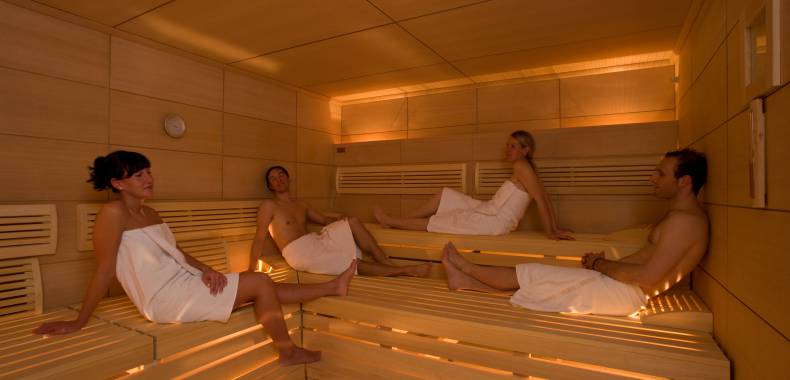 Finnish sauna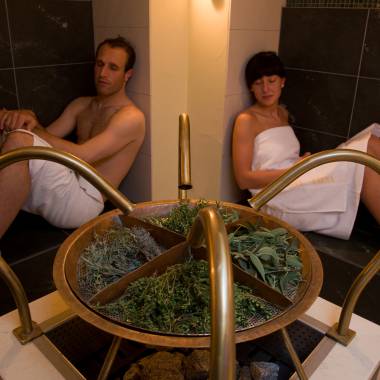 Herbal steam bath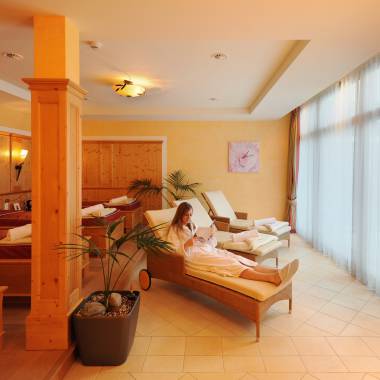 Relaxation room with water beds
Brine steam bath
Dress-on-Family-SPA 
Swimwear required
Open from 3:00 PM to 8:00 PM
Infrared sauna (dress-on): The infrared rays will warm your body from the inside. This deep warmth promotes blood circulation and leads to a relaxation of the muscles.
Steam bath (dress-on): The pleasant warmth and high humidity of the steam bath cleans the skin and relieves tension.

Relaxation room with loungers: Lean back and enjoy the moment in the Dress-on-Family-SPA.
Book your Stay now at the Resort La Ginabelle Zermatt
Your dream holiday is only a few clicks away
Book your next exciting and relaxing holiday at the Resort La Ginabelle Zermatt with our houses La Ginabelle and Altiana.
Our team is looking forward to welcoming you!