La Ginabelle restaurant in Zermatt 
Excellent dining experience
Exclusive, creative, regional & international. These adjectives briefly sum up the "La Ginabelle" restaurant. Our chef Korbinian Schroll and his team are constantly working to impress our guests every day anew with creative ideas. All meals are carefully prepared with only the best ingredients which are freshly delivered every day. The restaurant's diverse offer is a feast for the palate for both meat lovers as well as vegetarians. 

The "La Ginabelle" kitchen team has experience in award-winning cuisine and creates almost everything themselves: from homemade cakes to hearty vinaigrette for multi-course menus. The traditional and at the same time cosmopolitan cuisine also has one secret ingredient: "La Ginabelle" passion that makes every dish unique and without comparison. 
By combining skill, creativity and passion, Korbinian Schroll & his kitchen team treat the guests of the restaurant "La Ginabelle" to unforgettable dining experiences.


Reasons to visit La Ginabelle Hotel
Discover a delightful cuisine created by our care
Breakfast buffet
Several course dinners
Exquisite "à la carte" dishes
Over 300 wine possibilities
Rating
"This was a repeat visit for us to this hotel and we believe this is the best 4S hotel In Zermatt. Spa is perfectly appointed ..."
22.02.2017
KathyL-Ktown, auf tripadvisor
Read more reviews ...
À-la-carte-restaurant  
To our guests and all visitors of Zermatt, we like to recommend trying the superb à-la-carte selection of the restaurant in our gourmet hotel La Ginabelle.
In our wine cellar with its fabulous selection vintages, we keep more than 300 fine local wines from the wine country Valais as well as European and international classics. With the right wine to accompany your selected menu, your culinary journey at the restaurant La Ginabelle will be an unforgettable experience.
Our competent service team led by service manager Laura Mikolajczyk will be happy to look after and advise you in all matters.
Opening hours of the restaurant
Opening hours for our À-La Carte guests:
Everyday from 7:00 PM to 11:00 PM.
During the high season, also open for lunch. 
To reserve a table at the restaurant La Ginabelle, you can call at +41 27 966 50 00.
Dream holidays for our Hotel guests 
We invite our guest to choose the half board option during your holiday resevation at La Ginabelle Hotel in Zeramtt.
The Bar of Hotel La Ginabelle Zermatt
Quality choice for a great time in our Hotel
The bar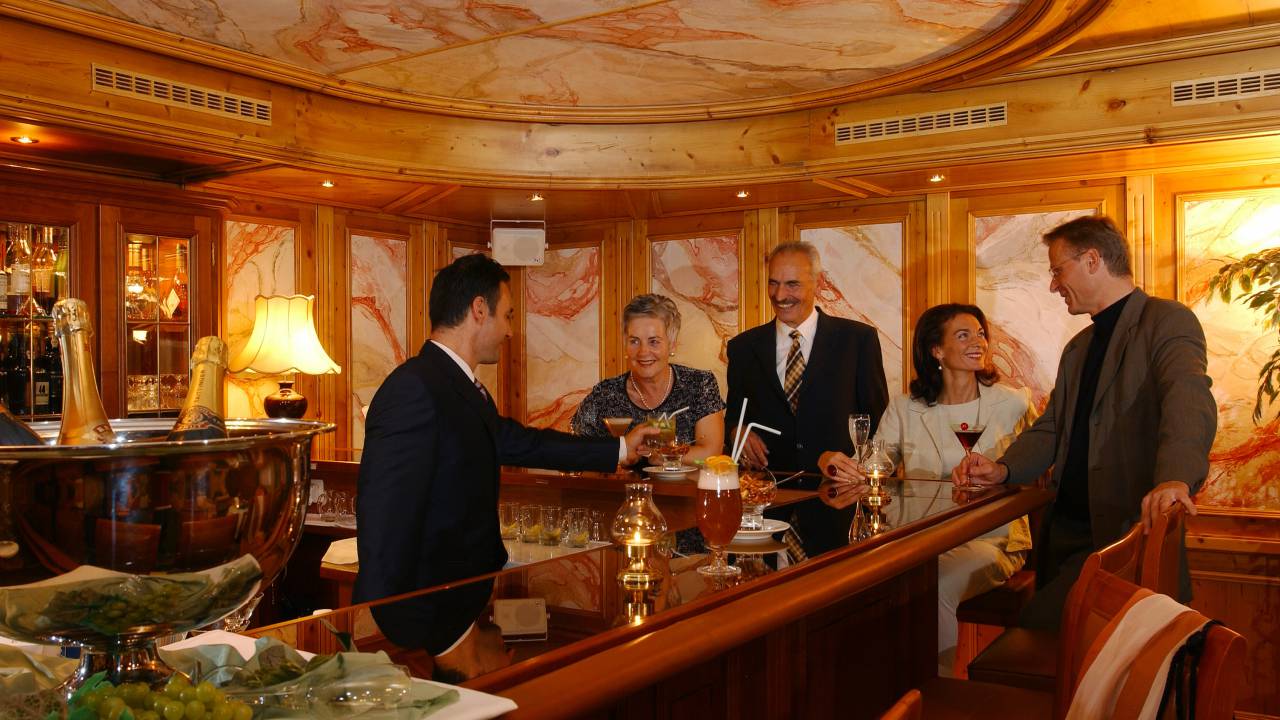 The Hotel La Ginabelle Zermatt bar
A relaxing atmosphere. Excellent drinks. For the moste woderful holidays of the year. The bar of La Ginabelle Hotel, is a perfect meeting point to share a little Aperitif or enjoy a spirit after a gastronomic dinner in the Restaurant.
Enjoy the different types of prestigious wines, cocktails prepared by our barmaid or the draft beers in our Bar/Lounge. You can also use this area to simply wind down and relax after a hard day of skiing and take in the decoration and the heart-warming ambiance.
Our Barmaid will be happy to advise and explain our drink card and will prepare all your favourite cocktails.
In winter, you will have the chance to listen to live music which never fails to please and bring a great atmosphere to La Ginabelle Bar
The Lounge, a place to feel at ease at La Ginabelle
In the lounge, you will find a wood fireplace that creats a relaxing atmosphere and will aloow you to wind down after a long day filled with activities. Take advantage of this area to read the newspaper, a book or magazine (which you can find every day waiting for you, free of charge)
We are looking foward to your stay in La Ginabelle.
Visit La Ginabelle Hotel in the Valais
Culinary surprises in the gastronomic Hotel-Restaurant
From the breakfast buffet to the dinner you can benefit from a wide choice of products. Fresh and local produce. In the canton of the Valais, in the base village of the Matterhorn, a varied and sophisticated cuisine that could please the finest gourmets, awaits you. Come and spend your holidays at La Ginabelle and let yourself be pampered during your stay here.
Our breakfast cooks offer you every morning warm and cold culinary speciality, allowing you to take a healthy, balanced, and complete breakfast. That is how your day will start if you stay at La Ginabelle Hotel, with a king's feast.
During the whole winter season, our pastry chef, creates sweets daily for our afternoon snack at 4:00 PM.
By booking the half board, our kitchen team, will be sure to bring you little culinary wonders with every dish.
Reasons to visit La Ginabelle Hotel
Copious breakfast buffet
Gastronomic dinners 
In winter: coffee and cake
In winter: "snak Break"
Service to cater your every need
Included benefits
Included culinary benefits
Morning breakfast buffet at La Ginabelle Restaurant 
In winter we offer you coffee and freshly baked cakes during our afternoon snack – a sausage and charcuterie platter, a cheese platter and salad.
If you book the half board, we suggest a gastronomic menu composed with a several course meal every night.
Welcome drink on sunday
Please let us know if you have any wishes in particular.
Nice breakfast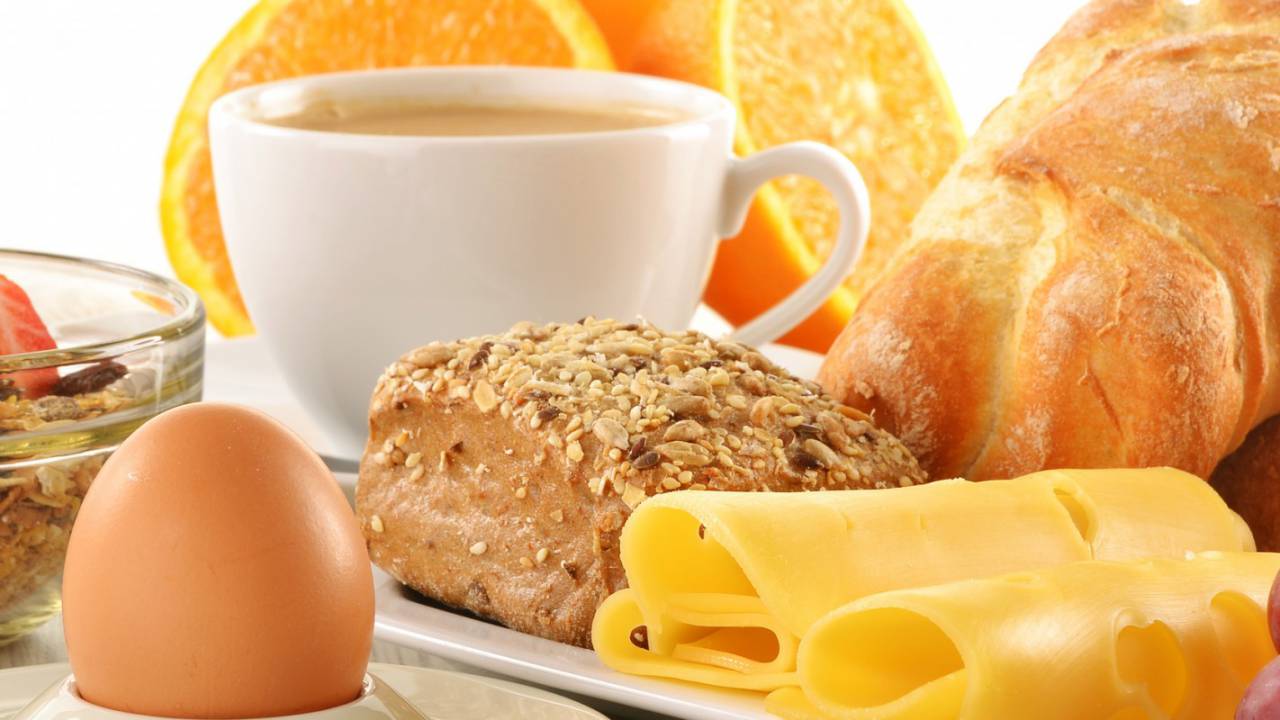 Enjoy your breakfast
For breackfast, we suggest a wide selecton of products :
Grouded coffee and coffe specialties
Several tee varieties
Hot chocolate and Ovomaltine
Different breads from the Fuchs backerie
Fresh eggs to your liking
Wide choice of regional youghourts from the Huro cheese chop
Wide choice of charcuterie, cheeses, fuits and vegetables
Tomato-Mozzarella
3 types of honey
Jams
Dired fruits
Fresh fruit salad
Müssli
Croissants and petits pains
Smoked salmon
Cereals
Opening hours for breakfast at La Ginabelle Hotel:
Summer: from 7:00 AM to 10:00 PM
Winter: Sunday – Friday, from 7:30 AM to 10:00 AM, Saturday from 7:00 AM to 10:00 AM
Abendmenü
Dinner at La Ginabelle Restaurant
The half bored in our charming Hotel includes:
5 or 6 dish meals of your choice
Vegetarian options
Themed buffets, such as, starter buffet, Valais buffet with a traditional raclette, desert buffet.
Please inform us while you are booking your stay, if you have any sort of allergies or intolerants. Our kitchen Chef and his team will be happy to prepare a menu that suits you and your diet.