Your hosts at Resort La Ginabelle
Family Abgottspon-Schell and the La Ginabelle Team
Familiar, competent and friendly - Just feel right at home!
Since 1991 we, Regina and Thomas Abgottspon with our team, welcome our guests at the Resort La Ginabelle Zermatt. The personal contact with our guests is close to our heart and we would like to introduce ourselves briefly below. 
Reasons to visit La Ginabelle
Personal contact with the host family
Friendly and competent team
Family hospitality
Rating
"This was a repeat visit for us to this hotel and we believe this is the best 4S hotel In Zermatt. Spa is perfectly appointed ..."
22.02.2017
KathyL-Ktown, auf tripadvisor
Read more reviews ...
Family Abgottspon-Schell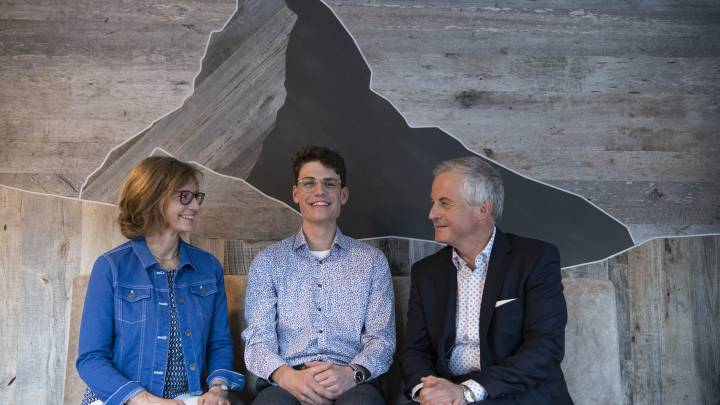 Management is a family affair
For more than 30 years, the company has been personally managed by the Abgottspon-Schell family and is therefore free from the needs of outside interest groups. The well-being of our guests is the main focus.
Thomas, born into a traditional Zermatt family, was able to learn a lot about the dynamics of Zermatt hospitality in his parents' hotel business as a child. After completing an apprenticeship as a wood sculptor in Brienz, it was not long before he fulfilled his dream of owning his own hotel. With the help of his parents, he bought his first hotel at the age of 25. Through a lot of diligence, privations, willingness to take risks and in cooperation with his growing family and the employees, two more houses have been built over time and together they form the Resort La Ginabelle today. As a councillor (executive) of the municipality of Zermatt as well as ski school director of the ski school Zermatt, he did his share in the service of the public for a total of 8 years.

Regina, who grew up in Germany in a small village surrounded by vineyards and the Neckar River, found her way to La Ginabelle when she applied for a job as a receptionist at Thomas' mother's hotel. She, however, had no more open positions at the reception and knew that her son still needed support at the reception. Regina then began working at La Ginabelle and over the years she has developed into a strong support who always has an open ear for all employees.
Matthias, the youngest son of the family, has been actively helping out at the hotel since 2019. He coordinates all digital processes and systems, looks after the social media channels and is always on hand with his camera when beautiful moments need to be captured. Due to his training as a chef, he is a speditive addition when there are bottlenecks in the kitchen. He is currently studying business administration at the University of Applied Sciences in Bern, which minimizes his presence on site. However, he is happy to represent his parents on site when they take some time off.
The Abgottspon family also includes Stephanie and Christina, who are pursuing a doctorate and studies in psychology and art, and thus have no direct influence on hotel activities. However, all the children like to come back to spend time together.
Together with our team we navigate through the rapids of the modern hotel industry and always aim to offer our guests an unforgettable vacation!
The La Ginabelle Team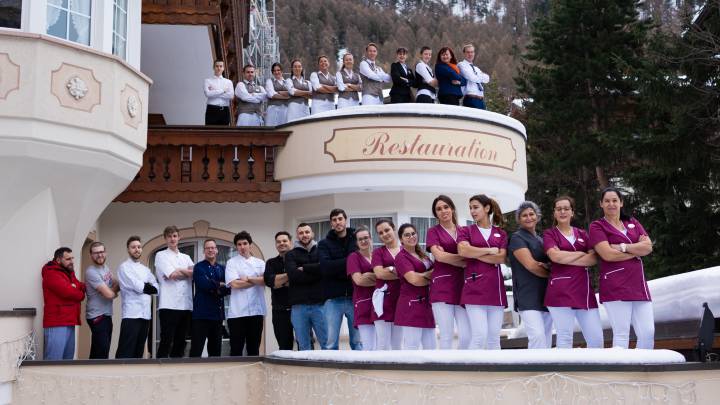 Competent and friendly
Our team is multicultural and very dynamic and includes everyone from young to experienced.

Whether at the reception or in the wellness, in the housekeeping or with the porters, in the service or in the kitchen - everyone is motivated and looking forward to offering you great days at the La Ginabelle.

We are looking forward to your visit at the Resort La Ginabelle!
Book your Stay now at the Resort La Ginabelle Zermatt
Your dream holiday is only a few clicks away
Book your next exciting and relaxing holiday at the Resort La Ginabelle Zermatt with our houses La Ginabelle and Altiana.
Our team is looking forward to welcoming you!